tag :
Appropriate technology
,
Asus
,
Bio Emerging Technologies
,
Business/Finance
,
Cloud clients
,
collaboration technologies
,
Dell
,
Dell Inc.
,
Hewlett-Packard
,
mobility products
,
Netbooks
,
online retailers
,
Technology/Internet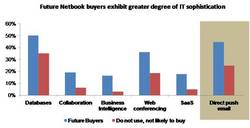 Techaisle's study on ownership and use of Netbooks among businesses shows that current and potential Netbook buyers are more technologically sophisticated than non-Netbook owners and support mobility products within their businesses. These small businesses not only support and use mobile applications such as direct push email they have a defined policy for the use and support of Smartphones. Surveys were conducted across several countries in both developed and emerging markets
The study conducted by Techaisle, a market research and consulting organization focused on Emerging Markets, Emerging Technologies and Interactive Entertainment also found that 46 percent of small businesses that are "Likely to Buy" Netbooks currently use push email. These small businesses are tech savvy using databases, SaaS and collaboration technologies.
As per the study, ASUS brand with 52 percent penetration is strong among small business primarily due to early entry into the market and availability through online retailers and local VARs/Resellers. Dell and HP are stronger players with higher penetration within Mid-market and Large Businesses.
Survey also finds ASUS brand is strong among small business with 52 percent penetration while Dell and HP have higher penetration within Mid-market and Large Businesses
Social Share